| | |
| --- | --- |
| Vietnam 50 Year Gold Cross | |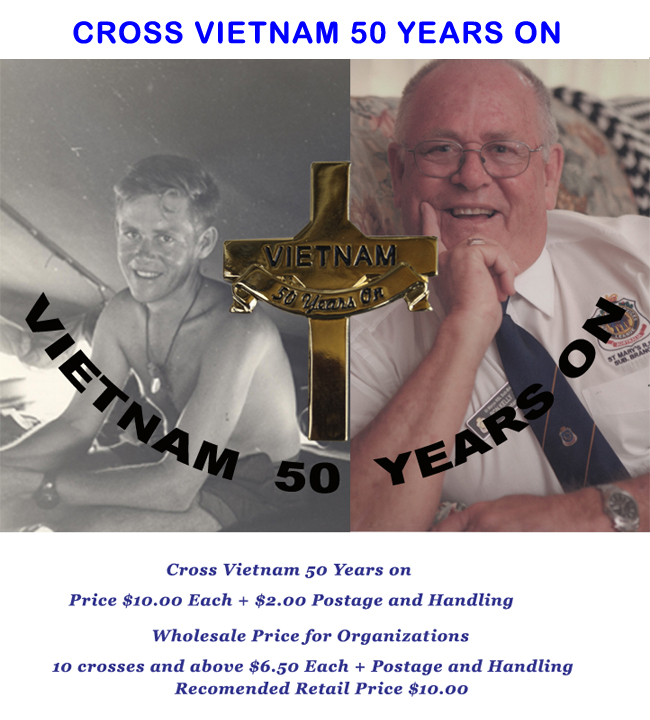 | | |
| --- | --- |
| Combined Arms Contact, Vietnam | |
Between 1962 and 1973 almost 60,000 Australians, including ground troops, Air Force and Navy personnel, served in Vietnam. More than 3,000 were wounded. Five hundred and twenty one lost their lives.
On 18 August, the anniversary of the Battle of Long Tan, Australia will again remember this service and sacrifice.
Each year one Canberra-based company is working to proudly preserve the memory of Australia's engagement in Vietnam by enlisting historians and artists to capture the spirit of service and the realities of war.
This year Military Shop commissioned leading Australian artist, Drew Harrison and military historian, Graham Wilson, to collaborate on a new artwork to capture Australian troops in a combined arms contact.
While Vietnam was largely a war of boots and bush – endless patrols and close contacts with an elusive enemy fought for the most part by infantry, there were also occasions when the force of Australia's military services was brought to bear against the foe.
According to historian Graham Wilson the commission for Military Shop was designed to pull into a single image the battle-winning value of combined arms action.
"Our brief was to look at the military evidence of such encounters and then translate this through the artist into a powerful image," Graham said. "For my part it was about making sure all elements were accurately reflected, looking at the gear being used, the tactics employed and the geographic layout.
"But it is up to the artist to chronicle this in such a way that the viewer can relate to the action and the perspective."
"Historically this type of encounter could have taken place anytime between 1969 and 1971. The armoured vehicles, including their markings (or lack of markings), the uniforms and weapons of the ground troops, their webbing and equipment, all are authentic for the period."
The painting shows a contact where the invisible enemy is cloaked in the jungle's shadows. But where this may have provided a winning advantage against a single unit, it provided no such benefit against the firepower brought to bear by Centurion tanks of the 1st Armoured Regiment and an M113 armoured personnel carrier from the 3rd Cavalry Regiment.
In his painting Drew Harrison captures all elements of the engagement and the tactics employed. The tanks and APC provide valuable cover and fire support, allowing the machine gunners with their M60 general purpose machine gun, to move forward. The infantry platoon commander, with his signaller close by, controls the battle from behind the M113 as a medical orderly uses the cover provided by a Centurion to attend to a severely wounded digger. Overhead two helicopters of the Royal Australian Air Force move in, guided by a smoke grenade marker. One is ready to add its firepower to the fight and provide air cover as the other comes in to "Dust-off" the critically wounded and speed them back to life saving medical support. It can be assumed they will also deliver much needed ammunition and reinforcements.
Drew Harrison is widely regarded as one of Australia's most versatile artists, who seamlessly blends his passions for fine art, historical detail and acrylics, to create some of Australia's richest artworks. Drew's military art represents a culmination of his artistic experiences in aviation, wildlife and contemporary interpretation of society. This blend affords his military artworks a fresh and unique atmosphere. Drew's aviation-based works have won numerous Royal Australian Air Force Heritage Awards and his works in this area are part of the Service's permanent collection. Artworks from his other collections have also won national awards.
Graham Wilson is a widely published investigative historian. In his 2012 book, 'Dust, Donkeys and Delusions: The Myth of Simpson and his Donkey Exposed', he challenged the national psyche when his investigations debunked the revered story of the Man with the Donkey. Although controversial, the evidence presented was overwhelming, and his work applauded as an outstanding and accurate investigative piece.
More information on the 2013 Vietnam Collection is available at The Military Shop.